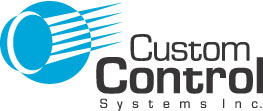 As a leading manufacturer of microprocessor-based controls, Custom Control Systems Inc. has been serving the garment/textile industry throughout North America for more than a decade.
Company President Kevin J. Hagberg is the force behind the development and refinement of the industry's most efficient, cost conscious systems. CCS has long recognized that the most productive operations are using integrated systems for ease of use and optimum performance. CCS industrial controls combine state-of-the-art technology with practical application and are known for reliability -- less downtime means facilities can operate at peak capacity. CCS believes each customer has unique needs, requirements and priorities. By focusing on those particular needs, CCS is able to guarantee customized, quality products and reliable services.
CCS's reputation for developing systems of exceptional quality is supported by its guarantee of personal attention to the needs of each customer. The company has established its value to its loyal customers and built an impeccable reputation by being on the cutting edge of technology, by offering personal attention and by providing consistent and exceptional service and accessibility.