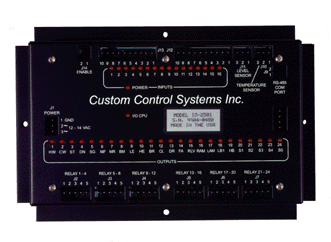 IO-2500
Overview
The Custom Control Systems I/O-2500 Input-Output module provides the interface between your CCS control and your washer, dryer, or other industrial equipment. Available for the PC-5000 and PC-5500 Industrial Washer Controls, the DC-5500 Industrial Dryer Control, and CCS Rail System Controls.
Specifications
Inputs
8 dry-contact inputs standard, expandable to 16
Outputs
16 relays standard, expandable to 24; contact rating 5 Amps @ 250 VAC (normally open contacts)
Analog Inputs
Two analog input channels standard
Warranty
All products manufactured by Custom Control Systems Inc. are warranted against defects in material and workmanship for two years from date of purchase. If a defect occurs, the product will be repaired free of charge during the warranty period. Full details outlined in product manual.
Brochure
PDF Format(247k)