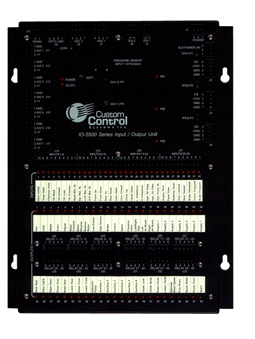 IO-5500
Overview
The Custom Control Systems I/O-5500 Input-Output module provides the interface between your CCS control and your washer, dryer, or other industrial equipment. Available for the PC-5000 and PC-5500 Industrial Washer Controls, the DC-5500 Industrial Dryer Control, and CCS Rail System Controls.
Specifications
Inputs
16 dry-contact inputs standard, expandable to 32
Outputs
24 relays standard, expandable to 48; contact rating 5 Amps @ 250 VAC (normally open contacts)
Analog Inputs
Two analog input channels standard; can be configured with up to five 0-5V analog input channels in addition to two thermocouple input channels; can also be configured with a water level sensor for washer applications.
Analog Outputs
Two analog output channels, may be configured to 0-5V output, 0-10V output, or 4-20mA output
High-Speed Counter Inputs
Two high-speed counter input channels for flowmeter input, rpm measurement, or other high-speed pulse inputs
Warranty
All products manufactured by Custom Control Systems Inc. are warranted against defects in material and workmanship for two years from date of purchase. If a defect occurs, the product will be repaired free of charge during the warranty period. Full details outlined in product manual.
Brochure
PDF Format (184k)