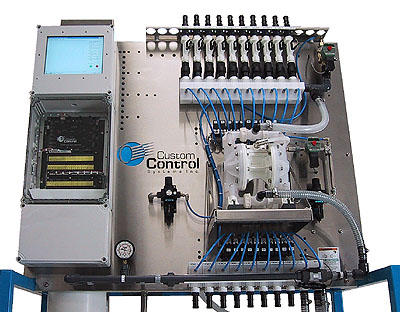 CI-1000
Chemical Injection System

The Custom Control Systems CI-1000 is a liquid chemical injection system designed specifically for use with CCS industrial washer controls and washer interfaces. A standard CI-1000 can provide 16 chemical supplies (liquid or diluted solid) to each of 16 washers. Up to four injection racks can be connected to a single computer, allowing you to increase the number of chemicals per washer, increase the number of washers, or set up redundant systems for improved uptime. In a fully-populated redundant system (four racks with 16 chemicals and 16 washers, 2 primary and 2 backup racks), the CI-1000 can deliver 32 chemicals to 32 washers.
Designed with you in mind
The Custom Control Systems chemical injection system was designed from the ground up to serve industrial laundries and textile processing plants. The injection system rack is designed to take up as little space as possible, and all components are easy to access for inspection and maintenance. The touchscreen control gives you instant information about the current status of the system, and shows a history of the chemicals that have recently been injected.
Digital Convenience
The CI-1000 is backed by over ten years of microprocessor design experience. Like other CCS products, it is designed to work with the Report Center data collection and reporting system. And, like CCS washer and dryer controls, the CI-1000 works with WashComm for easy configuration and formula programming. The CI-1000 communicates with standard CCS washer controls or washer interfaces using RS-485, and connects to your office network using 10Base-T Ethernet for remote report printing. The CI-1000 includes the chemical and washer modules of Report Center, giving you chemical use, chemical cost, formula run time, turnaround time and error log reports right out of the box. These reports can be installed on a manager's or engineer's computer for remote printing, or can be generated right on the system itself. In redundant systems, the chemical computer will use both the primary and backup racks during normal operation to reduce chemical wait times, then switch over to using only one rack for maintenance.
Warranty
All products manufactured by Custom Control Systems Inc. are warranted against defects in material and
workmanship for two years from date of purchase. If a defect occurs, the product will be repaired free of
charge during the warranty period. Full details outlined in product manual.
Product Brochures
Low resolution PDF (255k)
High resolution PDF (556k)